Services – Garden design and project management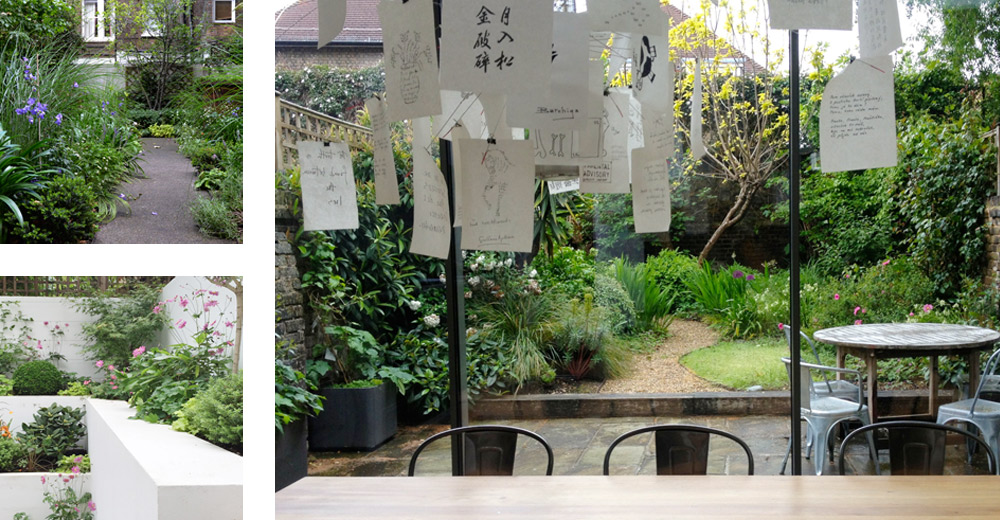 GARDEN DESIGN AND PROJECT MANAGEMENT
BESPOKE GARDEN FEATURES
TERMS AND CONDITIONS
GARDEN DESIGN AND PROJECT MANAGEMENT
LAYOUT
PLANTING SCHEME
CONSULTANCY
DESIGN PROCESS
NEW LOOK FOR YOUR GARDEN
My approach is collaborative, simple and hassle free : "it is all about you ".
Whatever the project, my design work is tailored to your needs and includes some or all of the following stages :
–
Accurate site survey and analysis
–
Inspiring concept board
–
Plans to scale : design concept, presentation plans, axonometric drawings, construction drawings, planting scheme plans,
–
Clear reports and design specifications produced to tender
–
Sourcing of materials
–
Detailed plant list and sourcing.
–
Liaise with contractors, works management
–
Monitoring of the work in progress, regular meetings and spreadsheets up to date

NEW PLANTING SCHEME FOR YOUR GARDEN
A planting plan can be commissioned as part of an overall garden design process or can be worked to revamp or to simply regenerate existing borders. My work will include some or all of the following stages :
–
Initial consultation to discuss preferences, favourite plants, colour…
–
Survey of the borders to revamp (size, aspect, existing plants, soil type and condition).
–
Preparation of scale plans detailing genus and cultivars of the suggested plants, quantity required and planting position.
–
Plant selection in nurseries, quote, plant order and work scheduling, setting out on the day of planting and monitoring of the border preparation and planting.
–
Advice on general maintenance.
CONSULTANCY
If you feel you just need some advice on plants or just need to pick my brain for an existing problem in your garden, then a consultancy visit is possible. This is charged at an hourly basis and doesn't include any report or plan.
DESIGN PROCESS EXPLAINED
–
Design fees : After our first meeting, I produce a brief of your first requirements and a quote for my fees that needs to be agreed before design works starts. The quote is based on the number of hours needed at a rate of £65 per hour.
–
Budget : on our first meeting, we evaluate the works and establish an overall estimate of the budget
–
Design process for new layout of the garden and planting scheme :
Once the quote is agreed, the site is surveyed (size, aspect, levels, boundaries, views, materials, existing plants and features, drainage, soil type…). For complex site, this stage is partly subcontracted to a surveyor.
Your wishes are translated into a presentation plan to scale and  your understanding of the design concept is facilitated with sketches, mood board, axonometric drawings, design brief and if needed models…
After consultation, adjustments and amendments are made and a final presentation plan is produced for your final approval
A planting scheme to scale is produced in accordance with your taste and specifications of the site.
I then design construction drawings for specific elements of the new layout and write reports and specifications documents and plant schedule.
These documents are sent to contractors and plant nursery for estimate. Quotes estimating the works are collected.
I can recommend trusted contractors but am also happy to work with your own contractors.
If needed, I deal with the local authorities, surveyors… and write all paperworks for planning permission.
–
Garden construction and planting :
When the clearance of the site is done, I set out the site with the new lay out.
I follow-up the construction and elaborate planning, organize meetings, monitor deadlines and budget.
Throughout the design and building process, we keep in touch at regular intervals.
At the day of planting, all the new plants are placed by me at their planting position.
–
Garden maintenance :
Once the garden is completed, I can organize a maintenance service for your garden.
–
Bespoke garden elements : All elements featuring in the Bespoke garden features page can be reproduced on request or I can design and produce your own unique one.
---